Being in an intimate relationship can be the most enchanting of experiences, yet it can also be a source of deep hurts, frustrations and pain. At times of stress couples get stuck in dysfunctional patterns of mutual blaming, attacking and/or withdrawing, and they don't know how to get out of them.
Each partner feels the other is responsible for the problems. Each waits for the other to make the first move, as each sees his or her behavior as a reaction to the other's. Needless to say, nothing changes. And, while partners may still love each other, this situation is certainly not conducive to accessing, expressing and enjoying loving and tender emotions in the relationship.
I refer to these painful times as "the Crossroads", times in intimate relationships when partners question the foundations of their relationship and their feelings for one another. Couples are at the crossroads in their love relationships when they ask themselves whether they should stay together or go their own separate ways.
I believe that all couples reach the crossroads at one point or another in the course of their love relationship, at times more than once, regardless of how healthy or dysfunctional their relationship is.
My approach to couples' difficulties is based on my book, "Couples at the Crossroads: Five Steps to Finding Your Way Back to Love" available in print and e-book version on Amazon.
At the completion of couple psychotherapy, couples will: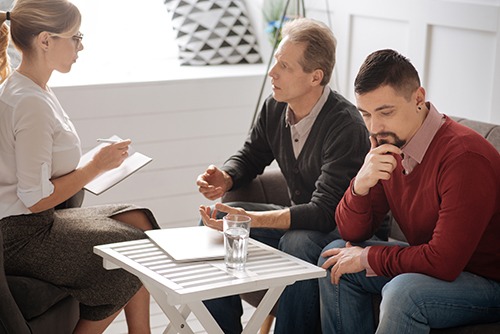 The ♥ of Conflict Enrichment Weekend, as well as weekly or bi-monthly sessions are also offered to couples who have experienced infidelity. Finding out about a partner's infidelity is one of the most painful and challenging experiences you may face in your relationship. After the initial shock and disbelief, you feel like your entire world, the way you knew it, has collapsed. And it has, because discovering a betrayal erodes the trust that previously existed between you and your partner. It also forces you to re-evaluate what you have lost as a couple and what is left, as well as probe what you want to do moving forward. Infidelity, thus, not only affects your past and present relationship, but also your future one, changing your vision of who your partner was, is and will be; who the two of you are now together, and who you will become in the future.
The goal of our couple psychotherapy for infidelity is to help couples process their emotions in a safe environment, and identify healthy ways of healing the pain and rebuild a future, together or separately. When successful, this process is fundamental in getting past the pain but also, and more importantly, to learn useful lessons from this very painful experience. When completed, partners may be able to rebuild a stronger relationship and rekindle intimacy and trust in each other, or they will be ready to move on and build healthy relationships with someone else, if they so choose.
At termination, you will have achieved a better understanding of what happened; a deeper awareness of your and your partner's emotions; a clearer assessment of where you both are, and a clearer vision of your future, together or separately.
All information is private and confidential.
If psychiatric services are needed, a referral will be made to a qualified professional.
Individual psychotherapy sessions are 45 minutes in length. Couple psychotherapy sessions are 60 minutes in length.
Please refer to the forms on the contact & forms page for any additional information about our services.
If interested, please contact our office at (480) 229-6666.
A 24 hour notice is required for cancellations.